A new Forest Service draft decision would enable the U.S. Navy to surround Olympic National Park and Olympic National Forest with electromagnetic emitter trucks, resulting in high decibel jet training flights over ancient forests, popular trails and remote peaks on the Olympic Peninsula. The Navy has done a poor job of informing local stakeholders about the proposal and has failed to respond to thousands of public comments opposing the plan.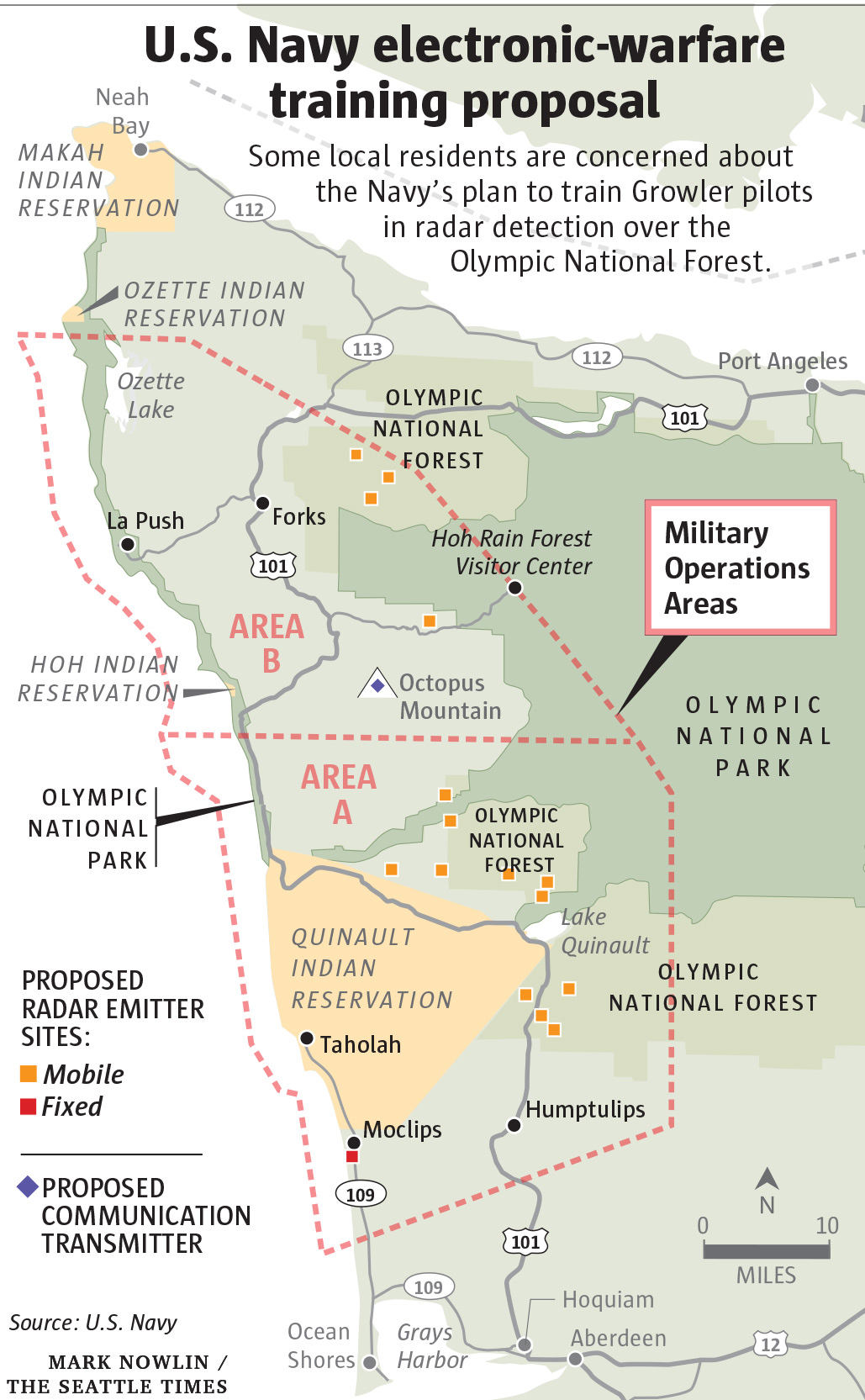 WHAT YOU CAN DO
The comment period for this opportunity closed on January 13th, 2017. For more opportunities see our Take Action Page.
Urge the U.S. Forest Service to deny the Navy's permit and respect Olympic National Park.
The U.S. Navy already conducts electromagnetic warfare training in Idaho and Nevada. We should not sacrifice one of America's quietest parks when other options are available.
STEP 1: Write an email comment to the Olympic National Forest in your own words asking the Forest Service to deny the Navy's application. Feel free to reference the talking points provided below.
STEP 2: Send your comment via email to Olympic National Forest Supervisor Reta LaFord no later than Friday, January 13, 2017.
Be sure to sign your name, city and state:
     EMAIL: rlaford@fs.fed.us
     SUBJECT: Deny Permit for Navy Electromagnetic Warfare
Please CC: ariel@wawild.org  so we can keep a copy! Thank you. 
STEP 3: SHARE on Social Media. See Washington Wild's Facebook Page for a post to share and get the word out.
TALKING POINTS
I strongly oppose the proposed permit to allow electromagnetic warfare within and above Olympic National Forest and the adjacent Olympic National Park.
Olympic National Park and Olympic National Forest are too special to be degraded by thunderous jet noise. These warplanes do not belong above one of our quietest, wildest and most protected areas in the country.
The wild Olympic Peninsula is like nowhere else. It has been recognized as a national park, a wilderness area, an International Biosphere Reserve and a World Heritage Site. It is also the most popular national park in the Northwest, with more than 3 million visitors in 2015 alone.
Currently, the U.S. Navy conducts electromagnetic warfare training in Nevada and Idaho. Flying over Wilderness areas and Olympic National Park is not the only option.
If permitted, the Navy would be able to fly noisy jets over the park up to 12 hours a day, nearly every day of the year.
A 2009 report by the U.S. Naval Research Advisory Committee on jet engine noise reduction identified Growlers as some of the loudest aircraft in the skies. This will have significant impacts to hikers and other recreationists, wildlife and endangered species and local economies of communities on the Olympic Penisula. When flying overhead,
Make it clear that we all support a properly trained and ready military to defend our country when needed. However, we can and should meet that goal without having to sacrifice public investments in Wilderness areas, conservation lands, recreational opportunities and wildlife and their habitat.
BACKGROUND
If the Navy conducts increased fighter jet training over the peninsula, it would affect some of the most popular wilderness areas, trails and visitor centers at Olympic National Park, including the Hoh Rain Forest and wild beaches.
If you haven't heard these planes before, listen to this video.
According to sound technician Gordon Hempton, who has spent decades researching noise pollution and making recordings of natural sounds throughout the United States, the Olympic Peninsula is "the most acoustically diverse" and "least noise-polluted" place in the Lower 48 states. Whether you love the crash of the ocean surf, the bugling of Roosevelt elk or the whistling of marmots in high mountain meadows, Olympic is a peaceful and accessible place where you can actually hear the beauty of nature in all its diversity.
This is not the only place available to the Navy, but it's the closest to their runways on Whidbey Island. Currently the Navy does similar training at Mountain Home Air Force Base in southern Idaho, which is not far away for a fighter jet. There are other airbases and military airspace available, too. According to the Navy's own analysis, using the Olympic region is a convenience and not essential for its training needs.
Many concerned citizens and conservation organizations are encouraging the National Park Service to designate Olympic National Park as a certified Quiet Park to help preserve its wild character and rare soundscape. The National Park Service's Quiet Parks Program provides management tools and resources for monitoring and reducing noise pollution. This special designation will bring us one step closer to making sure one of the Northwest's most beloved natural gems is protected for generations to come.